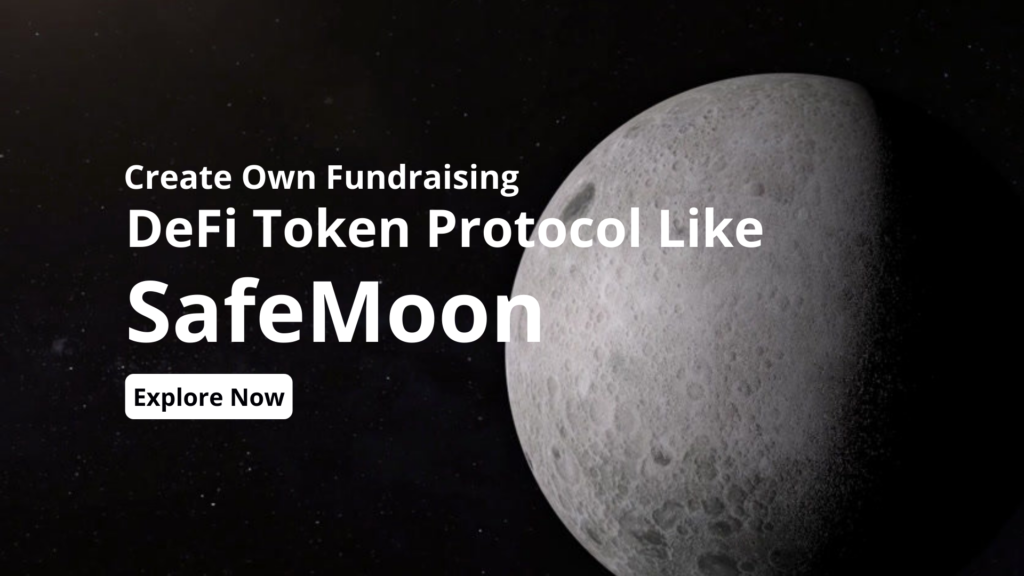 What Is DeFi?
DeFi stands for decentralized finance, a financial technology whose primary function is to get rid of third party intermediaries found in the centralized finance system. The financial databases are distributed across locations which enable peer-to-peer transactions. This facility is based on a smart contract system using blockchain technology.
Fundraising Using DeFi
Crowdfunding is the next big thing on DeFi platforms as it allows investors to raise funds for several projects, businesses and start-ups. The main goal is to remove third party institutions that are present in the centralized finance system. By introducing DeFi, potential investors from the crypto market can be attracted to be a part of crowdfunding.
What Is Safemoon?
SafeMoon is a community-driven DeFi token protocol running with the prime aim of leveraging revenue. It operates on the Binance smartchain network and uses the SafeMoon token as its primary coin.
SafeMoon token is a BEP-20 token built on the Binance Smart Chain (BSC) ecosystem on March 8, 2021. Binance Smart Chain is a CeFi ecosystem and a competitor to Ethereum's decentralized finance (DeFi) ecosystem.
The three components of SafeMoon include:
Reflection of transactions where the holders are charged a fee.
LP Acquisition: The fee to be charged on transactions will be given to multiple liquidity pools.
There exists a token burn, 10% of the transaction is taxed.
SafeMoon Clone Script
SafeMoon Clone Script is a combination of automated liquidity generating token, RFI tokenomics and RFI static rewards similar to SafeMoon. This clone software has all the features of SafeMoon and is ready for usage.
We at Brugu, have a team of experts who are highly skilled at leveraging the clne software for our clients. We create customized crowdfunding platforms which are capable of raising funds according to our clients' preferences.
The following are the benefits of SafeMoon Clone software:
Static Rewards
Reflection
Manual Burns
Automatic Liquidity Pool
Why should you build your own crowdfunding platform using SafeMoon?
First, it removes the third party influence on the crowdfunding process and provides a decentralized platform to raise funds using the blockchain technology.
Creating a DeFi token like SafeMoon on Binance Smart Chain enables creation of community-driven DeFi token which will make transactions easier, secure and diverse in numerous sectors.
Why Choose Brugu?
Brugu is a leading DeFi development firm that offers the finest DeFi clone scripts for creating DeFi exchanges based on various protocols such as Uniswap, PancakeSwap, AAVE, Compound, SushiSwap, 1inch and others. We offer cutting-edge DeFi clone script-based DeFi exchange solutions to help start-ups and entrepreneurs get started in the DeFi industry.
By using the SafeMoon clone software, you can build your own popular DeFi protocol with advanced functionalities embedded in them. Adding customizations to SafeMoon clone script is also possible.
We offer 24/7 customer support to our worldwide clients for any technical interruptions. We provide a completely customizable bug-free SafeMoon clone script with all the updated features in a short span of time