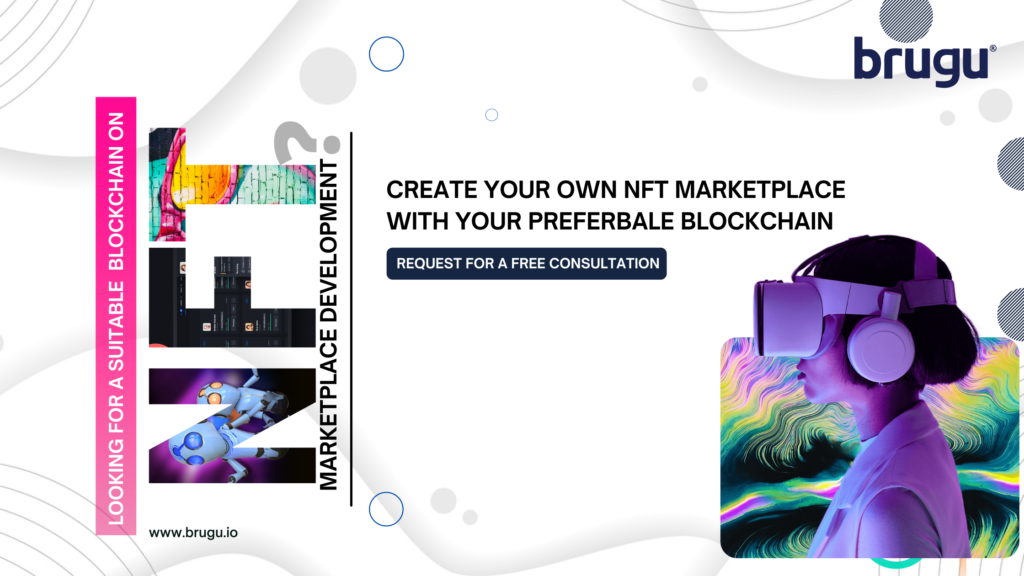 NFT marketplace is where NFTs are traded using cryptocurrencies. Most of these marketplaces run on the Ethereum blockchain network. Of late, NFT marketplaces have gained the attention of a wide range of audiences such as investors, developers and crypto enthusiasts. An NFT marketplace offers the prospect to spice up the price of your unique collectibles by tokenizing them to NFTs.
Advantages Of NFT Marketplaces
Security: When it comes to token transactions between traders in the market, the NFT platform prioritizes security. Because it is protected by private keys, built-in security protects against transaction loss and other undesired acts.
Transparency: Every transaction that takes place on the marketplace is visible to the user. The blockchain network ensures that payments are made without errors and that transactions are completed quickly.
Decentralization: The NFT platform's decentralization enables all data to be duplicated and spread over several blockchain networks. The NFT platform network modifies its blockchain to accommodate modifications each time a new block is introduced.
Smart Contracts: To prevent fraud and eliminate commission-free intermediaries, smart contracts are initiated by digitally signing an agreement. To automate the procedure, smart contracts are created in lines of code.
As the prices for NFTs skyrocketed, many businesses including those in art & collectibles, gaming, ticketing and metaverse, have started launching their own NFT marketplaces. Some of the key steps in creating your own marketplace include setting up a blockchain network, integrating chosen digital wallets, creating smart contracts and building a web app among others. As blockchain is critical to the functioning of the NFT marketplace, choosing the right blockchain framework is an important aspect to launching your own marketplace.
Each blockchain is different from the other based on its functioning and has its own advantages and disadvantages. In this blog, we discuss the top 6 blockchains including Solana, Polkadot, Polygon, Cardano, Flow and Binance Smart Chain that are most suitable for NFT marketplace development and the NFT marketplaces such as OpenSea, PancakeSwap, CryptoKitties and more that are built on these 6 blockchains along with their features.
Solana NFT Marketplace Development
Solana-based NFT marketplace development is the process of creating an NFT marketplace on the Solana blockchain with advanced security features that encourage people to purchase, sell and trade NFTs in a variety of fields such as art, sports, music, gaming and more.
We at Brugu Software, provide a wide range of services, including NFT marketplace development, Solana blockchain development and token development on Solana. Any business or entrepreneur can use Solana blockchain to launch their required platform in a timely manner.
Top NFT Marketplaces On Solana
Magic Eden
Solsea
DigitalArt
Solanart
Why Choose Solana For NFT Marketplace Development?
Because of Solana's decentralized characteristic, which completely eliminates middlemen, developing high-performance NFT marketplaces is cost-effective. Every step is automated, which saves time by eliminating the need for manual work. Fast transaction time and low fee are some of the most attractive features of Solana that makes this platform unique.
SOL is the native cryptocurrency of the Solana blockchain. SOL hit an all-time high of $258.93 in November 2021, making it one of the top 10 cryptocurrencies. That's when Solana caught the attention of numerous investors.
2. Polkadot NFT Marketplace Development
The development of a decentralized NFT Marketplace platform on top of the Polkadot blockchain network is known as Polkadot NFT marketplace development. It is easier for digital content providers and dealers to use NFTs on a platform based on the Polkadot blockchain as it provides enhanced stability and can execute up to 1000 transactions per second.
Enjin is a colonist for integrating NFT on Polkadot through building a long-term and stable network that allows for a permissionless platform, simplified protocol baggage,cross-chain comity, unique impulses and a fully decentralized platform.
Top NFT Marketplaces On Polkadot:
XENO
POP
NFT MART
Why Choose Polkadot For NFT Marketplace Development?
The Polkadot blockchain provides a platform for users to access interoperable NFT marketplaces. This compatibility is one of the main reasons why entrepreneurs use the Polkadot for NFT marketplace development. Other factors include transparent governance, high scalability and accurate transactions.
3. Polygon NFT Marketplace Development
Polygon is the most popular alternative blockchain for cryptocurrency users who want to transact quickly while paying low gas prices. Millions of active users have signed up for the layer-2 protocol built on the Ethereum virtual machine, which has now exceeded Ethereum in terms of active addresses. The network now has daily amounts of over $800 million and is being hailed as a possible Ethereum flipper.
Polygon SDK is the core of the system, a complex platform for building and connecting secured chains that are designed to be inflexible and self-contained. It connects scalable Ethereum results to create a multi-chain Ethereum ecosystem.
Top NFT marketplaces on Polygon
Opensea
Trade
Aavegotchi
Why Choose Polygon NFT Marketplace Development?
High-speed transactions – One of the key benefits is that it allows users to have a smooth and quick payment process.
Cost-effective – Another significant benefit is that, when compared to numerous other blockchain networks, the transaction fee is extremely low.
Advanced security – It uses its own algorithm to strengthen the platform's security.
Interoperability – This platform enables users to trade NFTs from a variety of side chains.
Cardano NFT Marketplace Development
Cardano is a third-generation public blockchain that is rapidly gaining popularity. Cardano blockchain has shown itself as a viable competitor to Ethereum blockchain as it evolves into a more important form. Cardano trades at a rate of 257 transactions per second. Many investors are flocking to Cardano to start their own marketplace because the selling is so low.
Tokhun is a Cardano-based NFT Marketplace that was founded after Mary Hard Fork in March 2021. Tokhun began as a platform for minting NFTs but it quickly grew into a smart-contract-driven NFT marketplace.
Top NFT Marketplaces On Cardano
Tokhun
Adviser
CNFT
Galaxy of heart
Why Choose Cardano NFT Marketplace Development?
Profit Model: On Cardano, NFT marketplace owners can make profit in a variety of ways. Every transaction on the marketplace, for example, is subject to a fee. They are also compensated for displaying adverts on the market.
Users can obtain immediate liquidity, thanks to the NFT's interoperable packages. After executing a transaction on the Cardano blockchain, NFT dealers can quickly buy or sell an asset. Because of the calm period between transactions, instant liquidity is possible when starting a Cardano-grounded NFT firm.
The Cardano blockchain, which is noted for its security and versatility, is used to run the NFT marketplace. Because of its decentralized nature and distributed servers, the NFT business's data is secure.
5. Flow NFT Marketplace Development
Flow NFT Marketplace Development is the complete process of building an NFT business on the Flow blockchain for art, gaming, music, real estate, etc. It allows the integration of smart contracts and native token development on Flow blockchain.
It Is a highly advanced and innovative blockchain for NFTs, facilitating scalable and low-cost NFT minting and transacting. This enables absorbing these minor costs and allows for zero cost minting and transacting on the Flow blockchain.
Top NFT Marketplaces On Flow
CryptoKitties
Top Expo
NBA Top Shot
Why Choose Flow For NFT Marketplace development?
Launched precisely For NFTs
Reduces quiescence
High speed
Low sale figure
High effectiveness
6. Binance Smart Chain NFT Marketplace Development
The Binance Smart Chain-based NFT marketplace is an interconnected process that leads to the formation of a whole business to carry out the creation, buying, bidding and selling of digital collectibles on the Binance Smart Chain (BSC).
Top NFT Marketplaces On BSC
Smart Chain (BSC) network
Battle Faves
PancakeSwap
Why Choose Binance Smartchain For NFT Marketplace Development?
Several factors influence the cost of producing an NFT business outcome on Binance Smart Chain (BSC). It's based on the technologies and tools chosen, the degree of platform harmony, the type of vital and ultra-expensive features, the amount of time allotted and the amount of money spent on the blockchain formulators.
Every blockchain  has its own features, advantages and disadvantages. A right NFT marketplace for your business depends upon several factors and is customizable for every individual. Therefore, it is important to find someone who could help you choose the right blockchain for your NFT marketplace development.