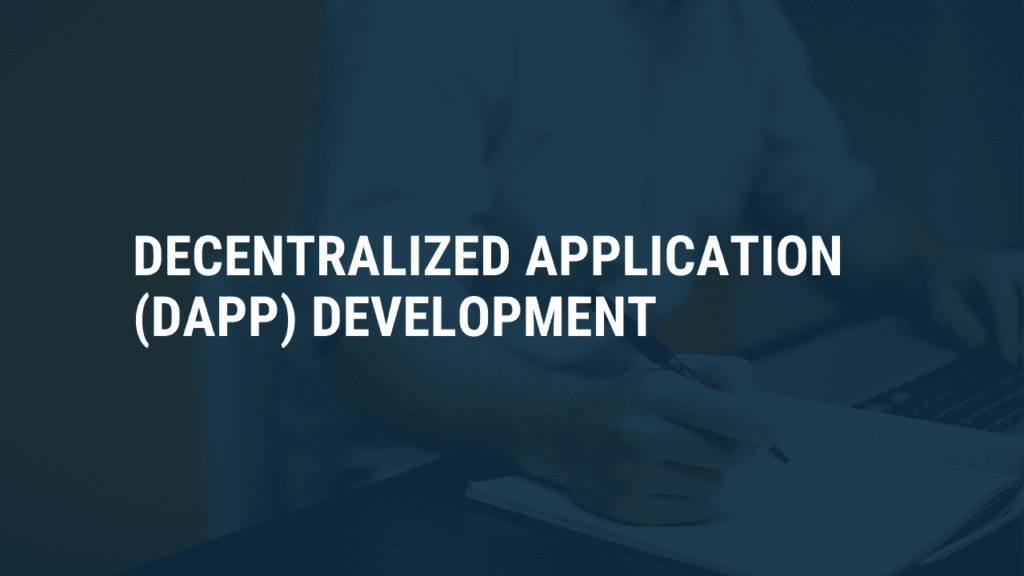 Decentralized Application (dApp) Development
Our passion and penchant for emerging technology have allowed us to stay at the forefront in Decentralised Application (DAPP) Development.
We provide full-cycle dApp Services and use an agile methodology that has helped us deliver dApp solutions at reasonable rates and within estimated time frames.
dApp Services For Business
Brugu is recognized as one of the top dApp development companies that brings decentralization to the core of your business. We create applications that are specifically crafted to serve the purpose of your enterprise. With this particular product, you can harness the power of the entire blockchain mechanism to the fullest.
We make Ethereum dApp Development so productive that you can integrate it into any segment of the operations. Our services are overarching and they give solutions to every problem you might encounter. You can make things anonymous, synchronized, and robust by making the most of this technology.
Automation
The whole platform is automation-based and does not require manual interception. The facilitation of smart contracts accomplishes this.
Smart Contracts
Smart Contracts, the non-editable collective agreements, run the DeFi system's dynamic structure without disputes since they are automated.
Security
The peer-to-peer blockchain-based network ensures that several core-operational nodes are present, thereby preventing abrupt shutdown and data breaches.
Transparent Protocols
The lack of an insecure central authority who has control over the data of your users makes the system extraordinarily open and trustworthy.
Decentralized Finance (DeFi) Development Services
MVP Consulting
Our experts in dApp development keep updated with the latest trends in the dApp industry and can help you evaluate whether or not your idea can succeed. As per the customer's requirements, we classify the possible stakeholders, describe technical components, and recommend the right blockchain platform.
User Interface
Right from ideation, wireframe designs, low fidelity, and high fidelity design to excellent prototypes, we follow the most organized user interface modeling methods. We have an established track record of producing user-friendly applications for our clients.
Decentralized Exchange Development
As per the requirements of the client, we can create a highly scalable and customizable exchange platform. Via distributed shared order books and APIs, the exchange platform can connect external exchanges.
Cloud Services
We enable our clients to support dApps as API-externalized microservices. Our microservices will let you focus on a single organization's strength. We will provide the data store for the cloud for each microservice.
Smart Contracts
Our smart contract service includes contracts on various platforms such as Ethereum, Neo, and others to write, test and deploy. We help our customers choose the best platform to meet their business needs.
Decentralized Storage
Several cloud storage systems are decentralized, enabling peer-to-peer transactions and offering the most stable, private, and successful cloud storage. We define and pick the correct project platform.
dApp Porting
In dApp Porting, we provide comprehensive support for a reusable codebase on any operating system. We can migrate the current application to any blockchain platform that meets the requirements of the organization.
dApp Upgrade Services
To run business operations smoothly, the application should be updated on time. Whenever needed, we provide customers with full migration and upgrade services. Our team can build new smart contracts and update the dApps' microservices.
Why is Brugu the right choice for your Decentralized Finance (DeFi) Development?
Quality performance
Rigorous testing cycles and quality controls are carried out before the completed platform meets the specifications of our client and the performance expectations of the industry.
Client Collaboration
Opportunity to work exclusively with our technical team and direct us step-by-step in the process of optimally perfecting your dream DeFi business.
Innovation
It distinguishes itself with its ability to integrate additional visionary features and applications into a conventional paradigm from its contemporary peers.
Prompt Delivery
Prioritizing the needs and urgency of consumers, tasks are planned to be completed on time, followed by instant standard checks to facilitate timely delivery.