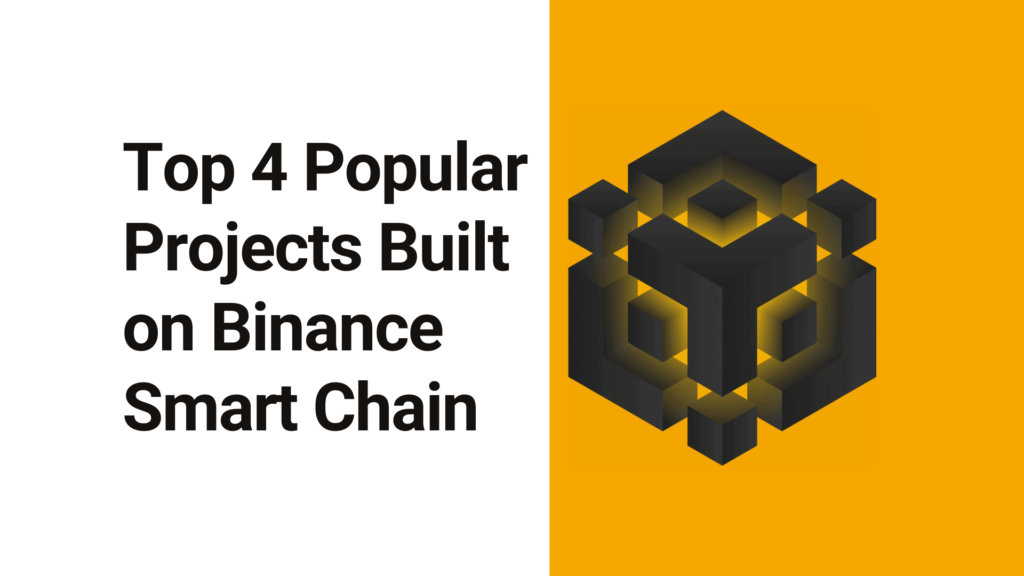 With the rise of DeFi and NFT, there is a pressing demand for efficient blockchains. This is due to the fact that blockchains such as Ethereum are inefficient and unable to scale. The Ethereum network has been plagued by network congestion, record-high gas prices, and other difficulties since 2017. As a result, consumers, developers, and platform operators have turned to Binance Smart Chain as an alternative (BSC). Because Binance Smart Chain is faster and less expensive than Ethereum, it is used for a variety of development projects, including the construction of Binance Smart Chain tokens, exchanges, wallets, and more.
1. PancakeSwap
PancakeSwap is a decentralized exchange (DEX) that runs on top of the BSC. However, this platform is working not only as a DEX but also as a decentralized finance (DeFi) services provider. 
Trading, collecting interest on varying yield farms, and participating in the PancakeSwap Lottery are just a few of the things that PancakeSwap now offers. The trading platform functions as an automated market maker (AMM), allowing customers to use the BSC to trade their currencies. This is comparable to how the Ethereum (ETH) network's DEX works. The main difference is that the Binance Chain is much more efficient, in terms of fees and transaction times.
The Earn solution will assist users in obtaining the CAKE cryptocurrency. This can be accomplished by joining yield farms, staking, and Syrup pools. Syrup Pools allows projects to give CAKE token holders a portion of their tokens.
Finally, the PancakeSwap lottery allows participants to win 50% of the whole lottery pool by matching four numbers on their tickets. Users who match two or more numbers in the correct order, on the other hand, are certain to win a prize.
In the last week, PancakeSwap has registered 34,44k users that handled a volume of $106 million. Furthermore, 64,910 transactions have been processed using PancakeSwap. Nowadays, this is the largest project running on top of the Binance Smart Chain network.
PancakeSwap is one of the leading AMM (automated market maker) DEX (decentralized exchange) on Binance Smart Chain. PancakeSwap makes swapping of BEP-20 tokens secure and efficient and that is why it has occasionally surpassed the trade volume of Uniswap. Being powered by BSC, PancakeSwap is undoubtedly cheaper and faster (average transaction time of 5-seconds) than Uniswap.
As the last dApp on Binance Smart Chain, it also provides new projects a launchpad to launch their own Binance Smart Chain tokens (BEP-20). Additionally, the development team worked to create a token BEP20 known as CAKE which is used to incentivize the liquidity providers.
Interestingly, PancakeSwap allows users to unstake their CAKE tokens with zero holding time. It has also introduced 6-hour lottery sessions and a single lottery ticket costs 10 CAKE.
While ETH 2.0 complete roll-out will take time, it is better to create your token on Binance Smart Chain rather than Ethereum.
2. Lendefi Finance
With the growing usage fees of the Ethereum network, Lendefi Finance realized it could hinder the adoption of the project. To avoid this, the development team migrated the platform to Binance Smart Chain.
The purpose of Lendefi Finance is to make it easy for anyone to access funding. Thus, it enables getting uncollateralized loans on Binance Smart Chain. As a uniquely designed product, Lendefi Finance leverages top DeFi lending pools and opens gateways to uncollateralized loans.
LDFI is the Binance Smart Chain token (BEP-20) of the Lendefi protocol which has multiple uses. It acts as a governance token and controls the interest rate model. In addition, it is used for reward distribution.
If you plan to create your token on Binance Smart Chain, it can be strategized and designed to have multiple uses in the project which increases its demand and the price.
3. Autofarm
Autofarm is a revolutionary cross-chain yield aggregator built on Binance Smart Chain. It is designed to switch the user's investment automatically to the more profitable liquidity pools. It is one of the first cross-chain yield optimizers built on BSC and it integrates DEX, Swaps, and Vaults.
The DEX is designed to split users' trades across multiple DEXs. This kind of system enables the best pricing and avoids slippage. AUTO is the native utility BEP-20 token which is used as the governance token of the Autofarm protocol.
4. DeFi Yield Protocol
DeFi Yield Protocol (DYP) is another innovative project built on Binance Smart Chain. This promises to help users mitigate the risk associated with Yield Farming. It seems to make it possible by developing a platform to allow anyone to provide liquidity. These users will be rewarded with Ethereum first. The next step is the use of the integrated anti-manipulation feature. This enables the change of rewards into ETH. However, this happens without any impact on the prices of ETH.
In addition to that, the DYP protocol protects against unexpected DYP price volatility. DYP is a BEP-20 token that can also be staked to earn staking rewards.
Wrapping it up
Many other protocols and platforms are running on top of the Binance Smart Chain and we can expect an increase in number as the blockchain stabilizes even further. With this post, we intend to increase the community's awareness of BSC. Make sure to check out our other blogs related to the BSC on our website.
Over the last year, Binance Smart Chain has continued to expand its capabilities. It is cheaper and faster and allows developers to build performant solutions on top. Looking at the rising demands in the DeFi and NFT space, BSC seems to be the best option.
By offering users a fast and cheap platform, platform operators can garner a lot of attention. We at Brugu offer customized Binance Smart Chain development services to help start-ups and enterprises launch their projects.
Connect with our subject matter experts to share your business needs.