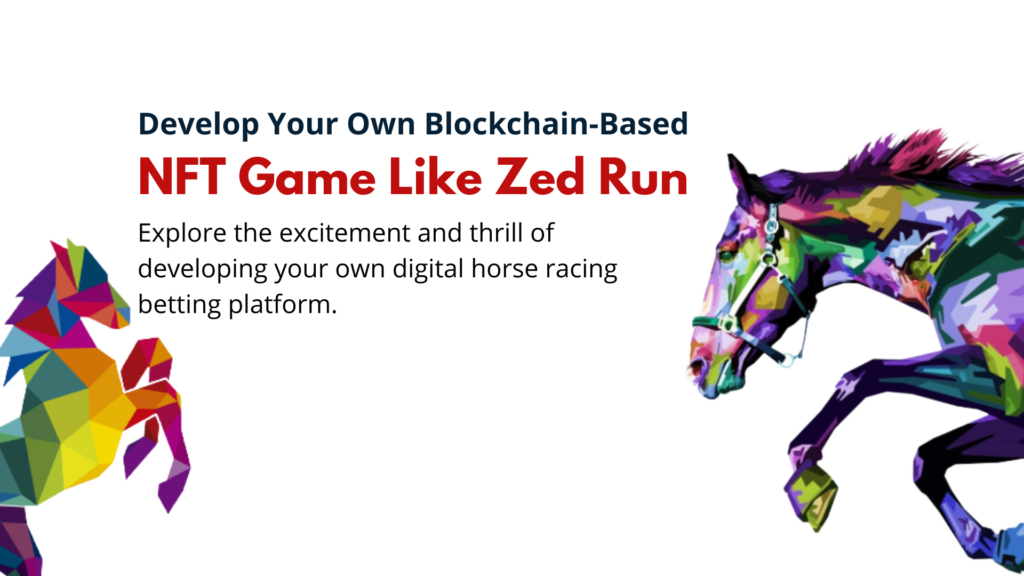 Boost Your NFT Platform With Exciting Games
Non-fungible Tokens (NFTs) have become a trendsetter of the digital world in recent years. The way cryptocurrencies and NFTs have grown in phe last few years is nothing but astonishing. Many business models are benefitting from it. of the NFTs. Non-fungible Tokens are highly flexible, it is often developed on different blockchain platforms while integrating it with multiple development protocols.
One of the reasons for the growing popularity of NFTs is the possibility to combine engaging blockchain games with non-fungible tokens. The gaming industry has utilized on-fungible Tokens to its full capacity. NFT games have played a major role in driving the popularity of NFTS within the crypto ecosystem.
Some of the common NFT games are Zen Run, Cryptokittens, Gods Unchained and Decentraland, among others. From cards to horses to football, possibilities for NFT gaming are endless.
Horseracing is particularly booming, with horses being the NFTs. Many businesses are investing in betting games involving horseracingsuch as Zen Run. Thanks to its fanbase, Zed Run's popularity has skyrocketed within three years of its creation.
Digital Horseracing NFT Game – Zed Run
Zed Run is a blockchain-based game that focuses on digital horseracing. The game is very similar to real-life horseracing, where people make money by racing horses. Zed Run is nothing but a digitized version of the sport of horseracing. igital horses are represented as non-fungible tokens (NFTs) in Zed Run. All the horses in the game are unique while they are initiated through training and breeding to level up the features for increasing their racing performance. Thereafter, its up to the owner of the digital horse to hold on to them or sell them on the NFT marketplace.
Digital horses, just like other NFTs, are traded on any open type marketplace, such as OpenSea, Rarible or others.
Not just horseracing, Zed Run also allows breeding of racehorses. NFTs developed on Zed Run are called 'Breathing NFTs'. These non-fungible tokens are developed in a way that they possess DNA, and it's passed on to next-generation Zed or horse through the algorithm that's devised on this platform.
How Does Zed Run Work?
The digital horses within the game are very similar to real-life horses. They have distinctive features, uniqueness and performance levels. These digital horses are classified into six breeds: Genesis, Exclusive, Pacer, Cross Elite and Legendary. Among these breeds, the Genesis breed is the first generation horse with a complete count of 38,000 releases on the platform.
In NFT games like Zed Run, the horses have four different bloodlines – Nakamoto, Sazbo, Finny and Buterin. The breeding process allows this bloodline to release a mixture of 28 possible outcomes, and therefore the range between the horses and their ancestry is denoted by Z1-Z28. It certifies the rarity and quality of the horses. Rock bottom number represents the closest ancestry and therefore, the higher it denotes, the farthest to the ancestry. For instance, a Z1 denoted horse is high in rarity and quality.
NFT games like Zed Run have prompted many businesses and entrepreneurs to create their own blockchain games. To create an efficient blockchain-based NFT game like Zed Run, you need a world-class NFT development company. We, at Brugu, assist businesses in developing their own blockchain games such as Zed Run.
Components Of A Zed Run-like NFT Platform
A Zed Run-like NFT game is supported by essential components such as a marketplace, breeding, racing and attributes, which are key while developing the game.
Marketplace: The marketplace is the platform where the digital horses can be purchased for ETH.
Breeding: Just like the real world, you can breed two horses and create offsprings here too.
Racing: The racing component involves many processes during development of the game. By racing and winning against other competitors/other digital horses, a players can earn great rewards and enjoy the perks of increased value for their NFTs.
Attributes: The attribute component provides data about the supply and rarity of horses, bloodline and Zed environment.
While choosing a company to develop a Zed Run-like NFT game for you, make sure that they have the capabilities to develop all the components that help in the efficient running of the platform.
Why Choose Brugu To Launch An NFT Game Like Zed Run?
We, at Brugu, develop NFT marketplaces integrated with different blockchains and development protocols. Our primary aim is to develop these marketplaces consistent with the business's requirements. We develop Zed Run-like marketplaces using three methods – by providing end-to-end marketplace services, by giving you the option to utilize our white-label solution and by deploying a Zed Run-clone development platform.
Brugu, the leading NFT marketPlace development company, has a strong team of developers with capabilities to deliver interesting NFT games such as the Zed Run for different use cases.
We also design multiple NFT projects using blockchain as its core operational framework. The Zed Run-clone script is presented to the cryptosphere with the actual benefits of the original blockchain-powered NFT game. We also offer white label solutions on different platforms such as Binance Smart Chain (BSC), Ethereum, Tron and others, serving different applications to audiences.