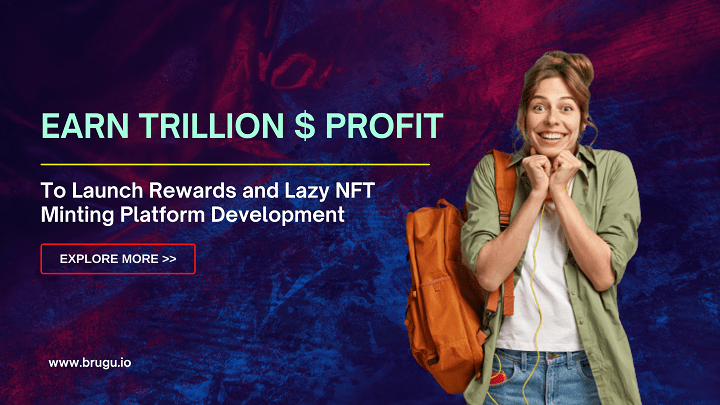 Welcome Millionaires,
Instead of telling you a fairytale, we are just presenting a new and innovative idea to earn more than you imagine and that is by "REWARDS & LAZY NFT MINTING"
Even if you are a beginner in this business. You don't have to panic we are here to guide you from scratch. Even the 'father of doge coin'
Must have started as a beginner like you.
Increase the value of your crypto investment by creating a one-of-a-kind NFT with a digital representation of your one-of-a-kind collectible.
Lazy Minting NFT'S
Because publishing data onto the blockchain involves a fee (commonly termed gas) to pay for the computation and storage, minting an NFT on a blockchain mainnet usually costs some money. This can be a stumbling block for NFT creators, particularly those who are new to the medium and don't want to invest a lot of money upfront without knowing if their work will sell.
It's possible to defer the cost of minting an NFT until it's sold to its first buyer using a few complex strategies. The minting fees are included in the transaction that assigns the NFT to the buyer, so the NFT creator never has to pay to mint. Instead, a portion of the purchase price simply goes to cover the additional gas needed to create the initial NFT record.
Why minting NFT may be a better investment option?
NFTs are high-value digital tokens in the cryptocurrency market. These tokens are the digital equivalents of one-of-a-kind assets. Unique paintings, sculptures, music, and other works of art are frequently used as assets. Tweets, prototypes, patents, accessories, and footprints are among the craziest NFT developments that have piqued the public's interest. The influence of NFTs among a large audience throughout the world encourages businesses to use them as a marketing tool to offer new ideas and concepts to NFTs.
Many blockchain networks have been drawn to Ethereum's introduction of NFT standards in order to embrace and invent new NFT standards. With the development of NFTs, the minting process has become more complex. Many businesses have begun to participate in NFT trends in order to increase their market awareness. Minting your NFT has financial benefits because it may be sold for a large sum in auctions and thus the market. In exchange for instant liquidity, these newly generated NFTs are frequently used as security for fiat cash.
NFT Standards:
ERC-721:
ERC -721 is an Ethereum token standard that allows you to create non-fungible tokens to represent your unique assets digitally. NFTs have distinct traits and features that provide intrinsic value to your unique assets.
ERC-1155:
The Enjin 1155 provides a semi-fungibility function for your NFTs, allowing you to trade and transfer them for exchange. For your unique assets, this token standard provides flexibility and scalability.
ERC-998:
During the composition of this token standard, numerous ERC-721 or ERC20 tokens are used. This standard allows users to create several tokens within the same hierarchy, allowing them to buy numerous NFTs or other tokens in a single transaction.
TRC-721:
TRON, a large blockchain network, has announced the TRC-721 token standard. This token standard is based on the ERC 721 Ethereum specifications, which provide transparency, scalability, and security.
NFT Minting Process:
Choose your NFT:
Choose your digital item carefully and outline it precisely. Start minting when you're ready.
Sign your NFT:
Use your wallet to complete the transaction. The NFT will be linked to your Ethereum address and wallet after the digital asset is signed for creation. On each sale, you'll also get a royalty for your NFT.
Approve gas fee:
To complete the minting, approve the gas fee from your wallet. Gas fees are transaction fees that are paid to connect to the Ethereum blockchain.
Mint your NFT:
Once the gas fee is accepted, the NFT minting process begins. Smart contracts will be used to deploy digital representations of unique assets. You'll be able to see how far along your minting procedure is.
Avoid double-minting:
While the transaction is in progress, it is preferable to avoid double minting. It's possible that multiple clicks on the transaction event will result in double transactions.
Minted NFTs:
After your transaction has been approved, you will be able to see your newly created NFT in your dashboard.
Rewards For Mintable NFTs within the Crypto Market:
Assets in the game:
Game assets are one-of-a-kind NFTs created specifically for use in games. These assets are frequently used in weapons, characters, or vehicles that use NFTs to provide a reasonable gaming experience.
Collectibles:
NFTs are frequently coined as unique items such as art, music, and Tweets, which have high market demand. These NFTs are frequently sold for millions of dollars.
Support Accessories:
Sports Accessories and prototypes are frequently coined as NFTs, which are extremely popular among crypto enthusiasts. The minting of such NFTs assists brands in launching new products into the market.
Digital Arts:
Digital arts are one-of-a-kind collectibles that draw large crowds. Minting digital arts as NFTs generates a huge revenue stream for your company.
Virtual land and Infrastructure:
With the frenzy of NFTs following cryptocurrencies for their intrinsic value, investment in digital assets has surged. In a decentralized setting, virtual lands are assets that supply lands, hotels, restaurants, and gas stations in the form of NFTs.
Here, I would like to mention the process of minting:
The following are the steps involved in the process of minting.
Prefer your NFT:
The first stage in the minting process is to choose your asset. After you've decided on an asset, make a detailed description of it.
Sign your NFT:
carry out the transaction using your wallet. It is now required to sign the asset in order to create NFT. It'll be connected to your Ethereum wallet and address.
Approval of the Gas Fee:
Within the Ethereum blockchain, a gas cost could be a silent transaction fee. To complete the minting procedure, approve the gas fee from the wallet.
Mint your NFT:
The minting process begins once it has been approved. The status of minting NFTs is frequently visible.
Avoid using two different mints:
Ensure the transaction and leave it alone until it is finished. Multiple clicks would result in dual minting.
Successful minting:
The minted NFTs are frequently visible in the platform's dashboard once they've been completed.
Features of our Lazy NFT Minting Platform Development:
Cross-chain ecosystem:
For cross-chain capabilities, your minting platform is frequently designed within the Polkadot ecosystem.
Military-grade protection:
The essence of your development process is security. During a secure ecosystem, we maintain your NFT details and ownership.
Wallet:
Both marketplace and minting platforms rely on the wallet. Users would be able to do it instantaneously using our integrated wallet.
Equipped with Multiple blockchain technologies:
Our expertise in blockchain technology enables us to develop your platform with different blockchain technologies to avail of its feasibility.
Business benefits of  Lazy NFT minting platform:
Gains Better Market visibility
Developing an NFT minting platform offers better market visibility within the crypto crowd for its unique investment opportunity.
Investors traction:
These NFTs are used by business owners as a marketing tool for launching new items and prototypes. This attracts a large number of businesspeople that want to mint their own NFT on your platform.
Sustainability:
Creating a modern NFT platform can help your company survive the turmoil of the crypto market.
The attraction of the target audience:
Because of the intrinsic worth, uniqueness, and rarity of NFTs, the NFT minting platform attracts more audience visits to your business.
Our Ingenious NFT Minting Services:
Rare NFTs:
Rare NFTs are usually in higher demand among crypto enthusiasts. It may be simple to mint a rare NFT, and it will pique the interest of the audience.
Minting in a group:
The group minting feature allows you to mint NFTs in bulk and releases them in a sequence with no lags.
Knitting:
It allows you to collect all of the unusual NFTs and distribute them to the crypto community to expand your user base.
Why Should You Use Brugu Software Solutions To Develop and Deploy Rewards and Lazy NFT Minting Platforms?
Without a doubt, NFTs are already a thriving business model all over the world, and their potential is growing by the day. Among the market's many NFT minting platform development company, the Brugu Software Solutions platform is specifically designed to meet your business's needs. We supply super-smart solutions to all or any of your crypto-based essentials due to our prominence in the field of cryptocurrency and blockchain technology. Many companies and renowned crypto organizations have benefited from our services, with positive results. We work tirelessly to deliver a world-class product that exceeds your expectations.