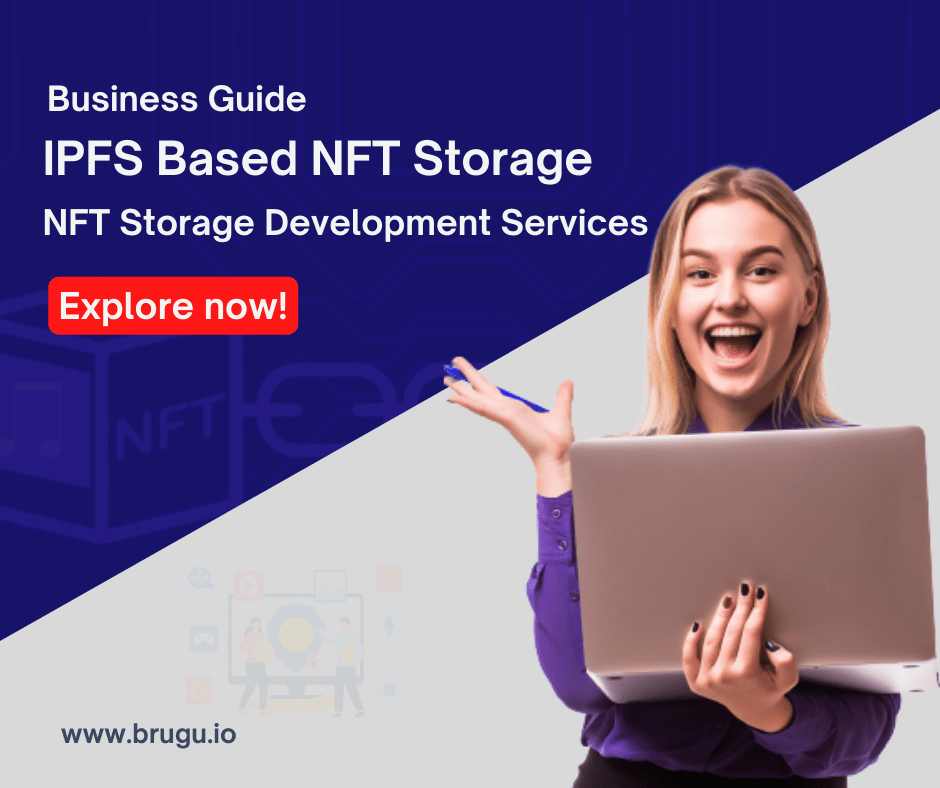 These days, upcoming the trends of blockchain in NFT. The NFT has an updating one new thing. i.e, NFT storage.
yeah..it has more than features. let see below what are the features of NFT storage.
Nowadays, business peoples turn their faces on NFT storage platforms. SO, it is the right time to start NFT storage. but the main thing is it is the right place? you have one query where can I get the best NFT Storage platform. If you ask my opinion or suggestion. I would like to suggest to you brugu software solutions. They are well-versed in NFT storage platform development. They give the best solutions based on your requirements.
NFT STORAGE SOLUTION
The NFT storage system, which was designed exclusively for storing off-chain NFT data, assists creators and NFT marketplace owners in storing data on IPFS in a decentralized manner.
Empower your distributed web with our IPFS based NFT Storage
Our ready-to-use NFT storage system provides the simplest way to upload and manage files in IPFS. The user-friendly interface combined with our IPFS API makes our NFT Storage platform the most convenient to work.
IPFS
IPFS (InterPlanetary File System) is an acronym for the InterPlanetary File System. The InterPlanetary File System is a distributed system entity that handles storage and transfer operations. The IPFS is certain to provide operational efficiency to files that are exchanged through it.
The NFTs on IPFS
IPFS are appropriate alternatives for hosting transactions connected with NFTs because of the high value of transactions taking place via NFT-based domains and the large quantity of storage space required by the NFTs. As an alternative to the distributive dedicated ledger, the Blockchain, IPFS provides a traditional backup to operations.
How to create NFTs on IPFS?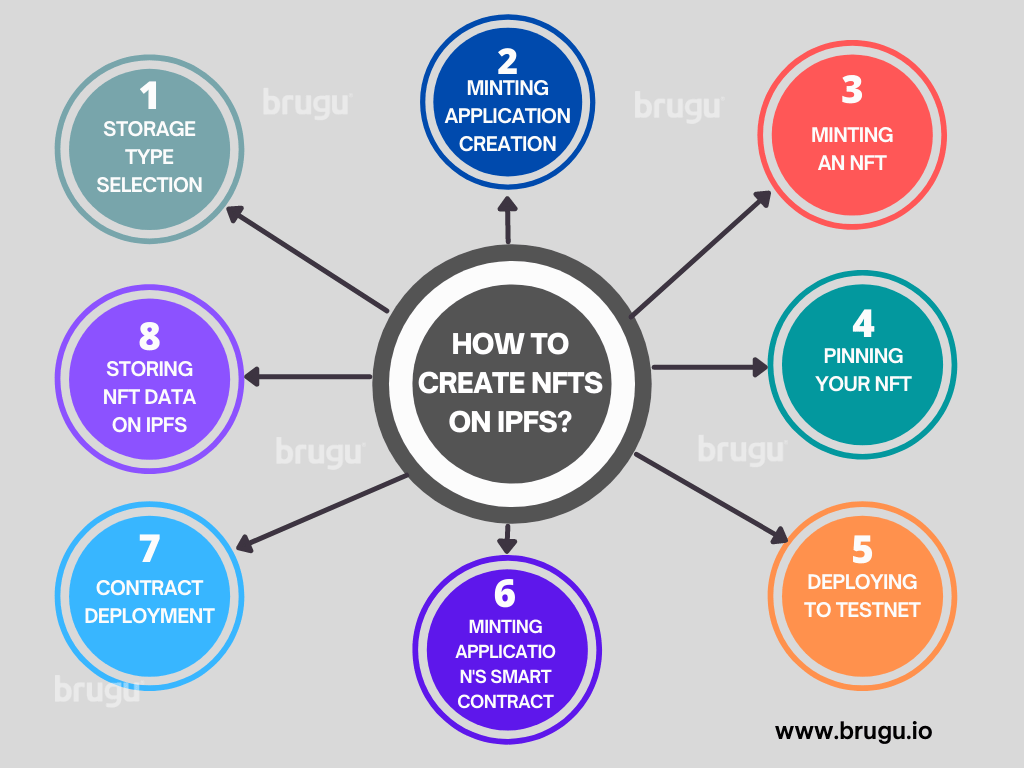 The NFT creation on IPFS is carried out in a number of steps that include
Let see the Difference: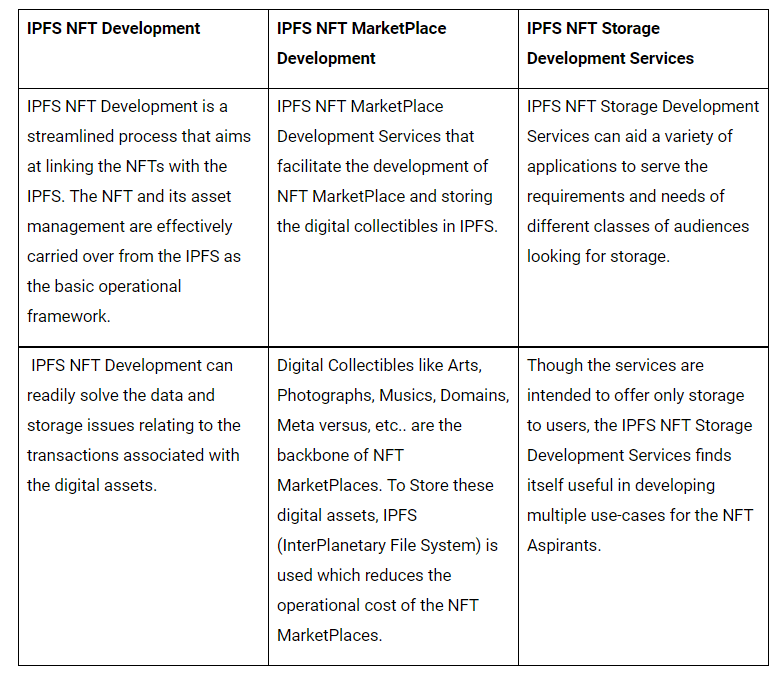 Our NFT Storage platform has the following features:
Hosting Costs Are Lower
The cost of hosting connected with storage platforms is the most important consideration when developing a platform. The IPFS NFT Platform provides highly cost-effective hosting.
Anti-Duplication
The IPFS NFT Storage Development Services can account for the most valid Data to be stored within it while removing any invalid or malicious data.
Improved Efficiency
The IPFS NFT Storage Development Services help to ensure the platform's long-term viability by providing platforms with improved performance and scalability.
Connectivity to Cold Storage
With its primary capacity to carry out transactions and provide storage without the requirement for active network access, the Cold Storage feature is in current Crypto trends.
Making a Minting Application
The Minting Application is the first and most important step in IPFS NFT development. Over the NFT Domains, the Minting Application is responsible for implementing IPFS techniques and workflow.
Install the Minting App.
The Minting application is code-driven to take recurrent commands to carry out Minting of the Non-Fungible Tokens after it is successfully created.
The Minting application process has the following steps,
1. Clone the Minting application's repository
2. NPM Installation
3.Path Inclusion
4. Run the Program
5.Deploy The Contract
Creating an NFT
The Tokens' Minting characteristic encourages the continued development of Tokens for both general and enhanced use cases. The NFT Minting process consists of a series of processes, which include:
Inclusion of people with different identities
NFT Pinning Pinning is a method that allows you to tell IPFS to retain a given object at a specific location – by default, your local node, but this can be changed if you utilize a third-party remote pinning service.
Pinning Modes for NFTs
The Direct Pins process pinning a single block and none of its associated blocks, whereas the Recursive Pins process pinning to all of its associated blocks, and the Indirect Pins only process the parent blocks.
IPFS NFT Pinning modes in trends:
There are two Pinning modes to Pin IPFS with that of NFTs in current trends.
<< Pinata Pinning << NFT Storage Pinning
Pinata Pinning-Working Mechanism
Step 1.Signup with Pinata
Step 2.Reaching out Pinata Cloud
Step 3.Mail Access
Step 4.Receive Storage
Step 5.Get an API Key
Step 6.Copy the Configuration file
Step 7.add your API key with that of PINNING_SERVICE-KEY
The Application is now linked with PINATA
NFT Storage Pinning-Working Mechanism:
Register using GitHub
Manage API keys
Select New Key
File selection
Add API Key to PINNING_SERVICE_KEY.
Who can benefit from our NFT storage platform?
Service providers
Our IPFS-based NFT storage infrastructure enables service providers to store massive amounts of data, reduce bandwidth costs, and deliver secure peer-to-peer content.
Creators of content
Our IPFS-enabled NFT storage solution allows creators to mint their own NFTs and manage and transport them without the need for a middleman.
Archivists
Deduplication, fast performance, and clustered durability are all advantages of archiving data on our IPFS-based NFT storage infrastructure. It gives consumers the ability to keep data for as long as they desire.
Researchers
Researchers and developers working with big distributed datasets benefit from our NFT storage solution since it allows them to decentralize archiving, increase speed, and improve overall performance.
Developers of blockchain technology
Our NFT storage platform uses IPFS content addressing, which allows developers to store big files off-chain and create permanent, irreversible linkages in transactions. It enables content timestamping and security without the need to put data on-chain.
Offline users
With high latency networks, many customers with limited internet infrastructure suffer significant challenges. Our IPFS-based NFT storage architecture provides reliable data access without relying on latency or backbone connectivity.
Why Brugu Software Solutions for IPFS NFT MarketPlace Development?
The NFT Platforms over IPFS were built and developed by Brugu Software Solutions, a leading NFT MarketPlace Development Company, to contribute to the energy-efficient way of delivering ledgers to the Non-Fungible Token Functionality. Our Products are made available to fulfill the market's immediate needs, as well as a standardized set of Smart Contracts that account for the majority of valid transactions throughout the Non-Fungible Tokens domains. The Minting program was created by Brugu Software Solutions to help with the availability of NFT platforms via IPFS. The Minting Applications are developed to offer competence with their counterparts in the market.