The world of blockchain gaming is expanding at an alarming rate and GameFi is among the most talked about buzzwords.
What makes it more exciting is the potential goldmine offering a variety of games that allow you to earn money. It is just too good to miss.
What do you have to do?
Be involved early in the development of Blockchain games. The solutions are incredible. In addition, you will benefit from the latest technological advancements.
We will help you understand the different aspects of crypto-play-to-earn Games and GameFi.
What exactly is GameFi and what exactly are the play-to-earn-cash crypto games?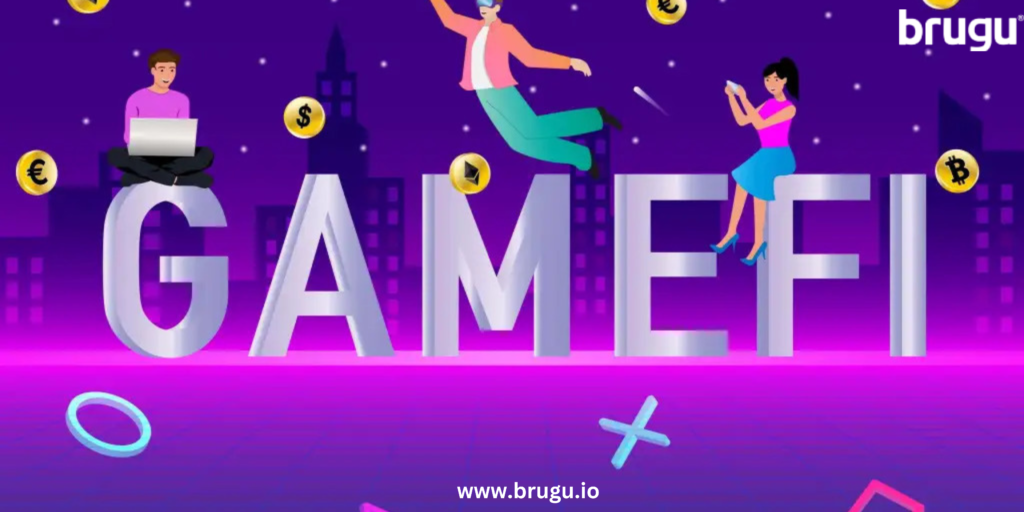 There's plenty of discussion about GameFi in the cryptosphere. It is basically an combination between "game" as well as "finance." It involves playing with financial systems to earn profits by playing games that earn you money.
GameFi's concept sounded like science fiction, however it's based on solid theories. It's based on the intersection of Gaming Blockchain Technology, games, and diverse kinds of DeFi (decentralised financial) products. These products are comprised of non-fungible tokens (NFTs) yield farming, lending and borrowing and much more.
GameFi is a term that was coined on September 20th, 2020 by Yearn Finance CEO Andre Cronje. Since it was coined, the term has become extensively used to refer to games with blockchain-backed DeFi components. The games capitalize on the popularity of video games coupled with the distinct characteristics of cryptocurrency, which makes GameFi an intriguing area.
Think about it . In classic games, items acquired by players in-game are of no value outside of the game's world. Furthermore, players spend money to purchase these assets, and are not in control of their acquisition.
GameFi changes the concept with blockchain technology, cryptocurrency, and DeFi products, which makes this financial rewards system appealing and attractive.
Here is some fascinating information about the cryptocurrency gaming industry.
Comparing GameFi to:
The market capitalization of GameFi has risen to $55.38 billion in February 2022. Blockchain gaming is predicted to reach 50 billion in 2025, which is a increase of 10 times the rate for traditional games. (Source)
The global GameFi market is expected to reach $38.27 billion in 2028. (Source)
The global fintech as-a-service platform market is projected to increase to around $ 949 billion before 2028. the compound annual rise (CAGR) of 17 percent between 2022-2028. (Source)
In a study that was conducted, the most important aspects to consider when selecting GameFi include the community (69 percent) as well as teamwork (67 percent) and gaming (51 percent). (Source)
The bottom line is that the market is booming and has huge potential for growth. But since Web3 continues to develop, GameFi will adapt to the evolving environment.
Play-to-Earn (P2E) Basics.
Let's talk about play-to-earn (also known as"P2E") games. P2E is the core of GameFi projects. These are online games that are based on blockchain that have made it into the mainstream.
P2E is a basic business model that allows players to participate and possibly earn cryptocurrency. The games let players get real rewards by completing their tasks. These rewards allow players to compete against other players, or even achieve certain milestones in the progression of levels.
What are the benefits?
They are available in a variety of game products like virtual land and cryptocurrency tokens, skins or cards as well as weapons and other NFTs.
The more players participate the more they will accumulate which in turn, the greater value they will become. What's exciting is that, due to the decentralization nature of games, players are able to move, buy or sell their in-game assets beyond gaming's virtual realm in real or cryptocurrency according to their own preferences.
Additionally that, in P2E games, assets in the game are shared between players. When players are involved in the economy of the game and bring value to developers and other players.
How do games that earn you money play?
The model of play-to-earn gaming is unique and distinct from the typical play-to-play strategy for video-based games. The main advantage of P2E is in the rewards that come with playing games that are based on blockchain.Developers of games are now focusing their efforts on the development of blockchain games and are adding real money to the game. Some games that fall into this category are Gods Unchained, Axie Infinity and Splinterlands.
P2E games depend in Blockchain-based Technology help support their ecosystem. They permit players to access game tokens that hold actual value beyond the game. Some of these games will reward players by offering one of the digital assets, which include digital currencies, marketplaces that are decentralized and NFTs.
In the game Axie Infinity you can earn tokens known as Smooth Love Potions (SLPs) which you can trade through exchanges to buy cash or stablecoins.
Additionally, players can trade and sell digital items like weapons and land to other players through NFTs in a particular marketplace.
The most interesting part is that these products are tokenized. Therefore, they are unique products which cannot be duplicated. Additionally, the token that is used for the items is securely stored in an open ledger. For instance, in the game known as Decentraland players can trade and purchase virtual properties.
Because these assets are stored in the blockchain, there's no reason to be concerned regarding their safety. What's more? They would be the full owners of these assets. Therefore, the developer or publisher do not hold any rights to own the assets. Additionally, the players have endless possibilities to make money from their collections through the blockchain. Here's a peek.
Earning modes for P2E
Earning money through gaming: In this case players have the chance to earn gaming assets. They can participate in competitions, tasks or duels, and be rewarded. They can also spend time enhancing their characters or animals to excel in the game.
Earning and selling assets in game (via NFTs) players can make their own content using NFTs using creatures, skins and virtual land other add-ons. The catchis that the less common they are and their value will will become. The reason is simple: as demand rises, so does the cost.
Earn cryptocurrency through investments Think about the popularity of Blockchain-based games Axies. The factors that push prices up is the assets used in the game. A lot of NFTs have turned into financial assets that are comparable to real assets. This makes it appealing as an investor to put money into P2E. Furthermore, this is the reason for creation of guilds and platforms that let gamers access the game's assets and lend these assets in exchange in exchange for a percentage of profits.
P2E players can access amazing platforms, like that of the Blockchain Gaming Alliance, where they can get the most recent news and updates regularly about the business.
Blockchain gaming is the future and play-to-earning games.
Gaming is constantly evolving, as does the gaming industry, and is bound to grow in value as new technological trends are incorporated. Below are some fascinating aspects that showcase the exciting prospects for Blockchain-based Gaming.
In 2021, the amount of GameFi projects grew dramatically and the business will be worth more than $2.8 billion within six years.
– The worldwide NFT market was valued at $2.5 billion by the beginning quarter of 2021. In addition, more businesses are looking to develop their own blockchain gaming businesses following the introduction of NFTs to the market.
In the end of June in 2022 there were more than 1550 blockchain-based games.
Popular games are available on multiple blockchains, such as Ethereum, Polygon, Harmony, Solana, BNB Smart Chain (BSC), and more.
The rise of blockchain-based games has drastically altered the game landscape and is an ongoing trend that will continue. With more advancements in blockchain technology, the possibilities for the gaming industry are endless.
In this regard, the GameFi expansion pattern is expected to adapt to the rapid growth of technology like blockchain. GameFi is a popular choice, particularly in countries with poor infrastructure, since it allows gamers to have assets within the game and earn money from them.
The 5 top crypto games that earn you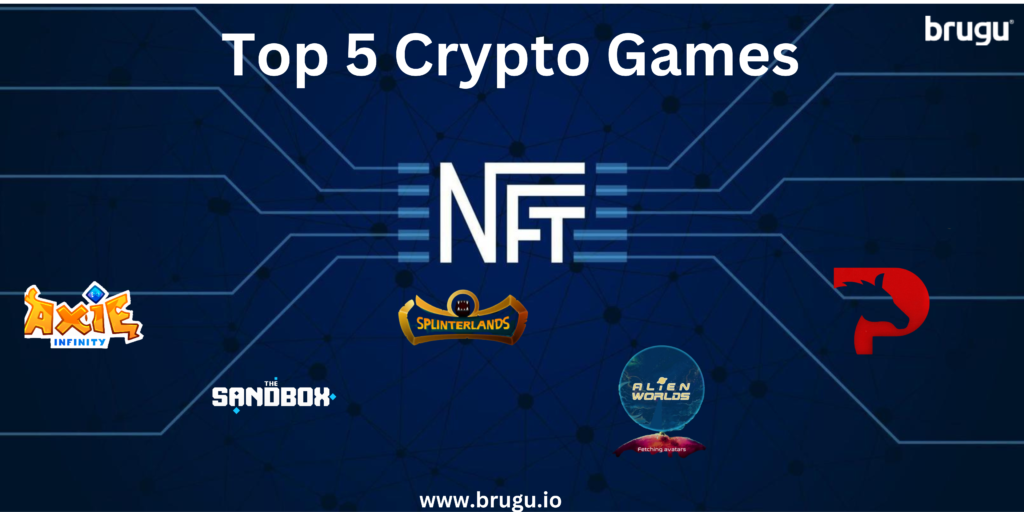 1. Axie Infinity
Axie Infinity has recently crossed the $4 billion mark. Before we get into the details – here are the basic facts: Axie Infinity is one of the top P2E cryptocurrency games. It is based on a three-token system of economy, and smooth Love Potion (SLP) as an utility token. Players gather NFTs, which are non-fungible. (NFTs) which are virtual pets, also known as Axies. The most exciting thing is that these animals are created within the game and play against one another.
The game is constantly evolving and, recently, Axie Infinity introduced NFT runes and pendants which can be created through the Ronin Network through the marketplace. Game management also will reward players by introducing Origin's rank mode.
2. Alien Worlds
Alien Worlds is another popular game on the BNB chain that continues to be a top contender on in the GameFi charts. With a total player base of 41,000 players, AlienWorlds is among the most popular blockchain gaming platforms offered by the data analysis and collection company DappRadar.
This game was designed to be an interactive world where every thing is tokenized. The game's world is comprised of diverse artifacts in the game where players are able to extract Trillium (TLM) in addition to also have the opportunity to create new NFTs which can be played with in the game.
3. Splinterlands
Blockchain-driven Splinterlands is an P2E gaming of trading cards online. In the game, every card is considered an NFT, and is traded using similar features to cryptocurrency like Bitcoin as well as Ethereum. The players are able to earn cash in cryptocurrency while having fun with the battles and winnings.
In the last few days, Splinterlands reached a new mark when it partnered in partnership with EMP Money. EMP Money is an Ethereum-linked currency that is the identical value of Ethereum (ETH) as well is now accessible to players to use for transactions in the game.
4. The Sandbox
Sandbox Sandbox (SAND) is a game founded on the 11th of November 2011 , by Pixowl and is built in the Ethereum blockchain. It is a virtual world in which players can create, own, purchase or sell their digital currency as part of an online game. It is a combination of autonomous organizations decentralized (DAO) with NFTs and DAOs to construct the platform that is decentralized.
The Sandbox seeks to appeal to gamers of all kinds, including crypto players by providing the advantages of actual ownership and digital scarcity, as well as potential for monetization, and interoperability. The year 2022 saw were a few price reductions, however the token continues to be highly sought-after by gamers.
5. Pegaxy
Pegaxy (Pegasus Galaxy) is a similar mech-horse to PVP racing game with modern mythological designs. The game features every race has different elements, such as water, wind speed, and many more. Additionally, players can cultivate, hire, or watch as well as take part in races with Pega (horse) in order to accumulate the Vigorous (VIS) coins.
It comes with it has a P2P in addition to a PVP mode within its Metaverse it is built on it's Polygon/Matic Layer 2 solution. The game is 3D compatible right now and likely to expand in the near future.
Summary
The longevity that has been enjoyed by GameFi along with P2E games has garnered many interest. Games have enhanced game play, which is attributable to cutting-edge technology and advancements in the field. The moment is now for amazing growth and new experiences.
GameFi's future GameFi is excitingand entrepreneurs are able to profit from the potential of the cryptocurrency world by playing games. It's a great moment to break the limits of the present GameFi market and to bring in top-quality games that increase the standard and help define the future of blockchain gaming.
Make powerful games on blockchain with Brugu
GameFi and P2E are both able to change the way we play. It's the time to think about creating sustainable models that focus on creating engaging and immersive gaming experiences. If you're looking to create strong Blockchain Games, but don't know how to begin, speak with us.
We are a multi-award winning Mobile and Web Application Development firm located in Hyderabad & London that assists companies in creating strong gaming ecosystems.