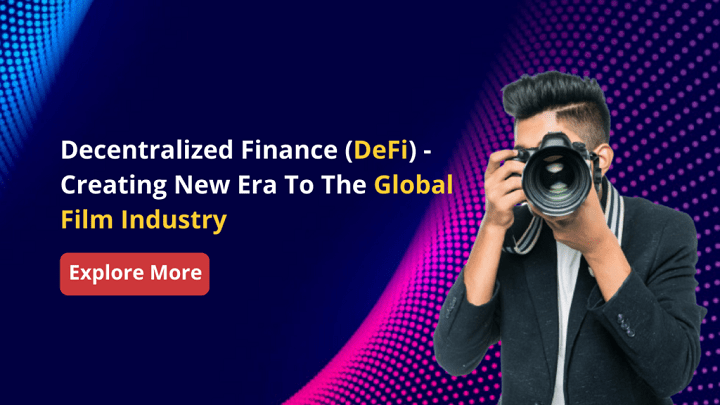 The Media and Entertainment Industry has been severely impacted by the COVID'19 epidemic. Due to the closure of theatres to distribute movies, total US cinema revenue fell to US$3.5 billion in 2020 from US$11.4 billion in 2019.
But thanks to technological advances like "Blockchain Technology", the film industry can overcome all its challenges in this new normal. Blockchain simplifies and improves the operation of many industries.
The film industry consists of independent producers, film distributors, global studios, OTT platforms, and international banks and all these stakeholders can avail the remunerative benefits of blockchain. With the development of digital technology, India's Media and Entertainment Industry is predicted to reach US$ 25.56 billion by 2021-22.
In this blog, a description of how Blockchain and Decentralized Finance (DeFi) are altering the film business to make it more transparent and free of difficulties is shown.
Major technical Challenges faced by Film Industry:
In case of script theft, the author must go to court and submit a claim to reclaim ownership of his or her work. This is a tough and time-consuming process.
The primary difficulties in the global entertainment sector are legality, ownership, and copyright.
Lack of Transparency on invested amounts:
In the film industry, the investors aren't aware of how well the allocated money has been spent for the project during various stages of production. This prevents them from solely investing their hard-earned money on projects.
A big move from Traditional TV to the Internet:
The digital world, driven by smartphones, has forced the audience to shift from cable Television networks to the internet. Nowadays the internet streaming business platforms are making huge investments in the production of films, series, etc which subsequently led to the decline in traditional filmmaking.
A clash between Movie Theatres & Television:
Prior to the epidemic, many people enjoyed watching movies on big screens. UHD televisions feature 4K resolutions, which is higher than the 2K resolution used in movie theatres. Despite the fact that television has a greater frame rate and dynamic range than cinemas, consumers prefer to view movies in premium cinemas.
The emergence of Online Series:
The traditional theatre or movie has a lot of competition these days since online programs are becoming increasingly popular. As a result, people enjoy watching television shows or movies at home since they deliver a theatrical feel even on a little screen.
Lack of Variety in Genres:
When watching a film or a television series, people search for original material. Only movies which are one-of-a-kind are able to attract and reach a large worldwide audience.
The following are some of the more serious difficulties that the film industry is dealing with:
Grants from the government are few for short films.
Access to many markets is limited due to a lack of content.
Longer working hours for little money
Film personnel is unaware of their legal obligations.
Surge in taxes
Frustration with Film Franchises
How Blockchain & DeFi are the Rescuers?
Because blockchain and DeFi are based on decentralized concepts, they can both help the film business, which is plagued by a lack of transparency in funding.
Protects content privacy:
The number of films that have been leaked online before their release has increased dramatically throughout the years. Even though blockchain is not a single solution for privacy, it might be able to prevent the content from getting leaked in an illegal way. Smart contracts can be used to enforce the governing rules regarding the overseas release, distribution rights, and merchandise license between buyers and distributors.
Simplifies Sales and Distribution:
Blockchain has the potential to handle both complexities of digital distribution models and global networks. Film releases can now reach all audiences across the globe due to distribution models. Smart contracts automate revenue distribution by managing the collection process and it allows audiences to buy tickets using cryptos.
Blockchain technology has made a positive shift in the way through which contents have been shared and viewed. As implementation of blockchain frees the film community of the risk restrictions, large budgets, and intense scrutiny, and rankings. This major transformation will certainly be a happy ending
Enriching the Copyright and Ownership:
It is a challenging process to establish copyrights and safeguard cinematic material when it comes to copyrights. As a result of blockchain and DeFi, authors may immutably register their ideas, characters, or scripts on the network. No one has the authority or chance to acquire ownership of the scripts that have already been registered.
Equal Opportunities for Everyone:
Blockchain creates absolute transparency so even small players can get the chance to establish their scripts or ideas, produce their films,s and make revenues as opposed to the current Film Industry. As blockchain provides global access, investors from anywhere can purchase, sell or trade their film or script.
Easy and Transparent Financing:
The investors can monitor the spending of his funds on various stages of filmmaking and also the profits received for the projects that he has invested using Blockchain and DeFi.
In many ways, DeFi and Blockchain technology can uplift the media and entertainment industry.
DeFiFi – Crafting a New Path For Film Industry To Thrive In A Golden Age:
What is DeFiFi ?
DeFiFi is the intersection of decentralized finance and the film business, resulting in an efficient entertainment system.
How Film Productions can be improved using DeFiFi ?
Using the blockchain with DeFi concepts, Filmmakers can pitch their projects to the blockchain community, and members may vote on films that deserve financing. When the projects are chosen, they will be given the funding they require from community-managed funds.
Filmmaking takes place off-chain, or offline, and requires monitoring from the DeFiFi community to ensure that money is used effectively for filmmaking. When the film is finished, it should be made available on the platform for viewers to vote on.
The final accounting process will be more open removing the ambiguity about profit usability.
The architects of the DeFiFi community have entire control over the financial assets compared to traditional filmmaking. This increased exposure of money utilization may encourage volunteers to invest in film projects, ushering in a new golden era for the film industry.
The Golden Era of Decentralized Film:
Investing in Films made it much easier and more transparent with the help of DeFiFi which encourages many investors to participate.
The more investment available, the more the films produced with great content ideas and scripts which attracts more fans and audiences across the globe. Utilizing blockchain and DeFi in the film industry may benefit audiences by giving them a chance to earn rewards.
Digital rights management system allows artists to register their ideas and receive funds for their projects. This decentralized film era can drive the film industry to the next level with greater transparency.
Main advantages of DeFi and Blockchain in the Film Industry:
Reduced Content Privacy
Improvements in Distribution of Royalties
Increased Transparency
For Creation & Maintenance of Smart Contracts
Democratizing the oversights of digital assets
Supports a global network that digitally connects content producers, distributors, and audiences.
Future of Film Industry with DeFi:
As of now, there are many decentralized platforms to produce films such as Filmio, Mogul Productions, and more which come under DeFiFi platforms trying to provide a decentralized film production space.
Blockchain technology, decentralized finance, and smart contracts can make a powerful and positive transformation in the film industry with improved transparency and security. Thus decentralized films will be the future of the Media and Entertainment Industry which will completely rely on the decentralization concept.
Let us hope for a Sustainable and Bright future for the Film Industry with the adoption of DeFiFi ! Stay Tuned with Brugu – Leading DeFi Development Company to get up-to-date innovations and moves of the crypto industry as a whole.