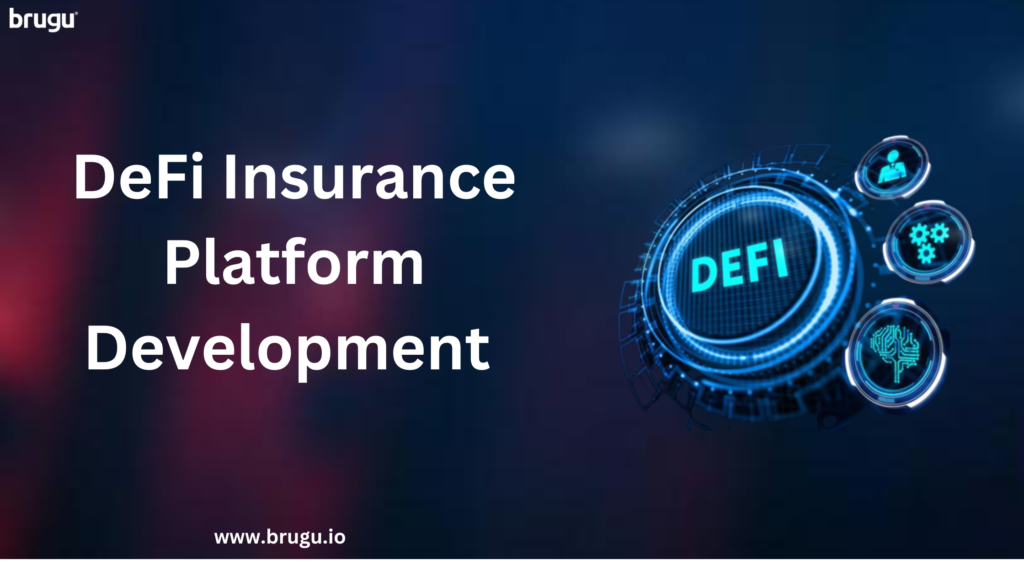 Brugu, a leading DeFi Insurance Platform Development Company, provides comprehensive DeFi Development services to help you create your own DeFi Insurance Platform on immutable blockchain networks at an affordable price.
DeFi Insurance Platform can serve as protective gear in the DeFi sector and is one of the most appealing ideas in the Decentralized finance ecosystem. Many crypto investors have lost their capital investments due to hacking and fraud activities in recent years, so a slew of insurance products have emerged in the DeFi market to protect crypto investors' holdings. DeFi insurance protocols protect the cryptocurrency industry. In this article, we will look at how decentralised insurance can protect crypto assets and cover risks, as well as how to build a DeFi insurance platform to help secure investments and holdings.
DeFi Insurance
Decentralized finance ecosystem needs a comparable sense of security, which is why DeFi Insurance enters the picture in the DeFi Market. In the event of fraud or hacking, DeFi Insurance aids in securing the investments of investors and suppliers. Due to the transparency and security it offers investors, DeFi Insurance is a developing industry in the DeFi market.
It is intended to offer security for all kinds of things, including exchange transactions and lending protocols like Dharma and Compound. In the approaching years, DeFi Insurance systems will continue to dominate the DeFi market.
Function of DeFi Insurance
DeFi insurance was created by taking loans from the regular market and also increased security by allowing you to contact the insurance directly and receive reimbursement if you were the victim of an accident or experienced a financial loss. In the event that your DeFi platform is hacked and your money have already been compromised, your insurance provider will pay a set amount to your DeFi platform in order to protect your users. Decentralization of the system and the absence of a centralised organisation may increase user confidence. each and every transaction on a public chain.
DeFi insurance has the ability to both produce tokenized cryptocurrency assets and provide important protective protection. DeFi insurance primarily uses smart contracts, which were created using blockchain technology. Terms and conditions are created in accordance with the opinions of the relevant authorities in order for the data to be stored in a public database. Smart contracts specify the loan terms and link lenders and borrowers. Users of DeFi insurance may purchase insurance for finances, smart contracts, or other digital assets.
Plans for Decentralised Insurance
The majority of the insurance industries are prepared to transition to decentralised financing in order to offer their clients more advantageous elements. A few of the more well-known decentralised insurance projects are:
NXT Mutual:
It was initially launched using a smart contract that enables anyone to receive insurance on any open Ethereum smart contract, meaning DeFi customers may simply get security for their cash. It creates decentralised insurance by using Ethereum blockchain technology.
CDx:-
With CDx, you can simply protect your money from hacks on well-known exchanges while simultaneously protecting your cryptocurrency holdings.
Etherisc:-
Anyone can construct their own insurance product using Etherisc, which also offers some safety for the user's crypto wallet and lending collateral. Etherisc is used to build applications for decentralised insurance.
Use Cases of DeFi Insurance
Blockchain-based Insurers Enter the Market
An insurance platform built on the blockchain has all the assets under a smart contract's control and securely stored; by storing the claims process on the blockchain network, the process will be automated and visible to anyone.
Healthcare industries are benefiting greatly from converting to DeFi insurance. Insurers are collaborating with blockchain-connected businesses, and thanks to DeFi insurance's smart contract functionality, both insurance providers and insurance consumers stand to gain.
Protection for crypto-backed loans
DeFi insurance can reduce the risk posed by the lenders who provide a loan if the loan can be provided in terms of the collateral loan; if it was stolen or lost, the loan was repaid under the guise of an insurance policy. As a result, crypto-backed loans are secured in a DeFi Insurance.
Smart Contract Cover
It was created to cover the loss if the smart contract address could be compromised by someone, such as the loss of funds from the investor account. Using smart contract covers, the funds are transferred to another address, in plain English, covering all losses so that they can be quickly recovered.
Conclusion

Due to its advantageous characteristics, many blockchain users have already begun using DeFi insurance. Some business people have even begun to launch their own DeFi platforms with the help of DeFi insurance policies! A decentralised insurance platform is currently in great demand, and Brugu produces its own DeFi-based projects using an advanced decentralised ecosystem and knowledgeable DeFi developers. As a top DeFi development company, Brugu assists you in creating a DeFi insurance platform that helps to protect your holdings and interests. We also promise to provide you extremely inventive and immutable DeFi services and solutions, together with amazing features and functionality.