Using Algorand Blockchain Solutions, the Algorand Blockchain Development Company, Brugu creates decentralized applications that are swift, scalable, secure, and entirely unique.
Algorand Blockchain Development
Unique two-tiered blockchain architecture can be found in Algorand. Smart contracts, the creation of assets, and atomic asset swaps are supported at the basic layer. The Algorand blockchain's Layer 1 hosts all of these operations, promoting interoperability and security.
With speedier networks, the most recent third-generation blockchain technology, Algorand, can link already-running business operations to the blockchain. Numerous DeFi solutions, wallets, and cryptocurrency games have been successfully introduced on the platform by our team of experts at a top Algorand development firm.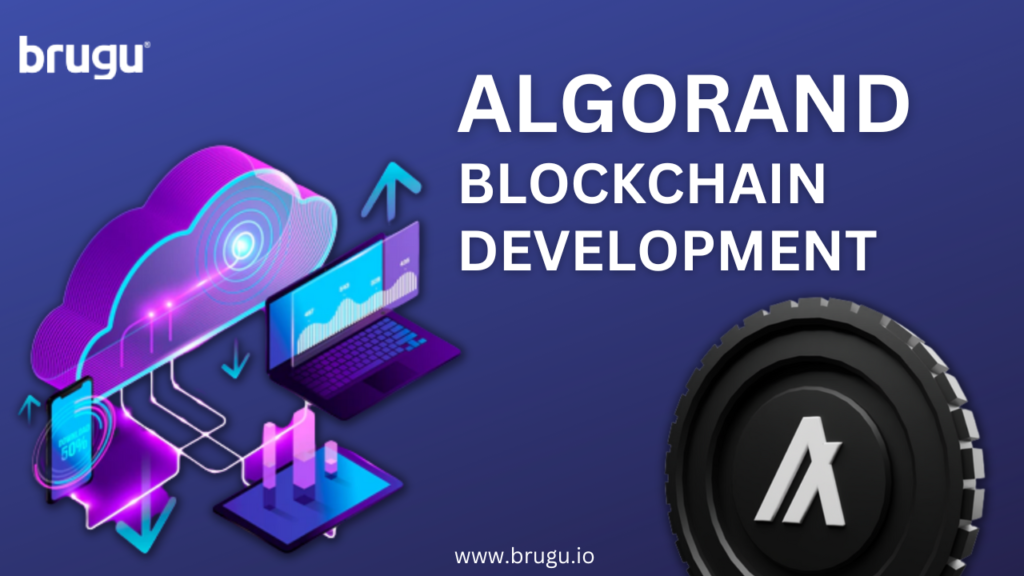 Is Algorand a Good Investment?
However, the cryptocurrency asset Algorand manages to do both. It hopes to act as both a platform for blockchain development and a payment processor. You may wonder things like, "Is Algorand a wise investment?" To help you understand Algorand and provide an answer to the query, let's delve deep into understanding it.
There have been various crypto assets over the past few years that boast matching several regular worldwide payment corporations. In an effort to provide programmers with a platform to construct smart contracts, other cryptocurrency assets have made an effort. In this sense, these digital assets want to surpass Ethereum.
How Algorand Blockchain works?
Participants in this approach are not paid for their participation. Furthermore, validators are not in danger of having their collateral seized. The minority has no incentive to cheat because there are no benefits.
Additionally, the ALGO tokens are not locked for staking on the network. They are always accessible to users. The blocks of the network are picked at random in two processes. The first token is chosen at random, and then its owner chooses the next block. Second, 1,000 tokens are randomly selected.
Benefits of Algorand Blockchain
Fees
When network traffic is high and blocks are frequently full, a user may decide to raise a payment to help prioritise acceptance into a block. The transaction's value is used to determine the fees.
Openness
Algorand is completely open and permissive. Anyone with an Algo can participate in consensus from any location in the world.
Decentralization
Algorand's protocol is open and permissionless, therefore nodes can and do exist everywhere in the world.
Transparency
The complete source code for the core protocol is accessible online. Everyone is welcome to review and contribute to it.
Performance
It's important to consider the speed at which blocks are formed, the maximum amount of transactions that may fit in a block, and the time at which those transactions are deemed as complete when choosing a blockchain. The primary Algorand development team has focused heavily on performance and will continue to do so.
Choose the right company for your Algorand Blockchain Development
You can choose any business you want. Choosing the best, most reliable, and leading blockchain development company is something we do, however. Because only qualified experts can apply their in-depth knowledge to create exceptional solutions and create a ready-to-use, dependable platform with unmatched performance throughout time. To attract consumers to the Algorand Blockchain Development, the script you employ must be flexible and offer a wide range of functions.
This is done so that only when a solution is easily adaptable additional features can be introduced as needed. Consequently, realizing your original ideas will be straightforward for you. As a result, attracting consumers won't be challenging over time.
Utilize the Algorand Blockchain Development Company that we have created especially for you, and we wish success for your own company.